by Jaime on Jan.05, 2009, under Life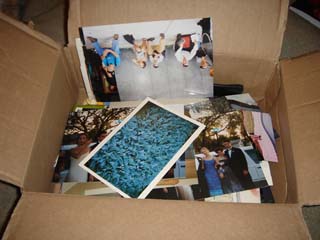 A year ago I made a post about a shipment I had received in the mail which had been damaged in shipment, and as a consolation prize I received someone else's shipment of personal photographs. At the time, I had done some research, trying to find contact information about the owner, and while I was able to find mention of some of her art pieces on exhibit in Florida, I was unable to find a a way to contact her directly.
For over a year, the box sat in my closet, the constant reminder that I need to go looking for the owner again. Finally, when packing for my holiday trip, the box completely disintegrated, spilling the contents all over my closet. This ultimate reminder finally goaded me into doing another quick net search this weekend, and sure enough, this time, I was able to find a facebook profile matching her name.
I quickly sent her a message, trying to sound as non-stalker like as possible, and today I received a message confirming that she was the owner of the lost package. As stalkerish as it felt trying to track her down, it was nice to find out that she was relieved to find out about her lost family mementos. Address in hand, I will finally be able to send her pictures to her, and get them out of my closet. A win for everyone.
2 comments for this entry: